Discover How

Therapy Newsletter Helps You Stay Connected With Patients and Doctors, Positions You As The Primary Provider In Your Area and Stimulates Referrals

On Autopilot...






Reactivation of past patients with automated marketing

Boost internal referrals from patients with word-of-mouth promotions

Done-for-you service with full control over frequency, content and delivery

Valid reason to communicate with doctors and 'stand out'

Convert website visitors to patient visits

Capture emails and other contact information with plug-and-play books

Automatically deliver valuable content with inbuilt 'call to action' for patients

Condition patients and doctors to recognize you as THE private practice expert
Therapy Newsletter Can Do So Much For Your Private Practice ...Take a Look!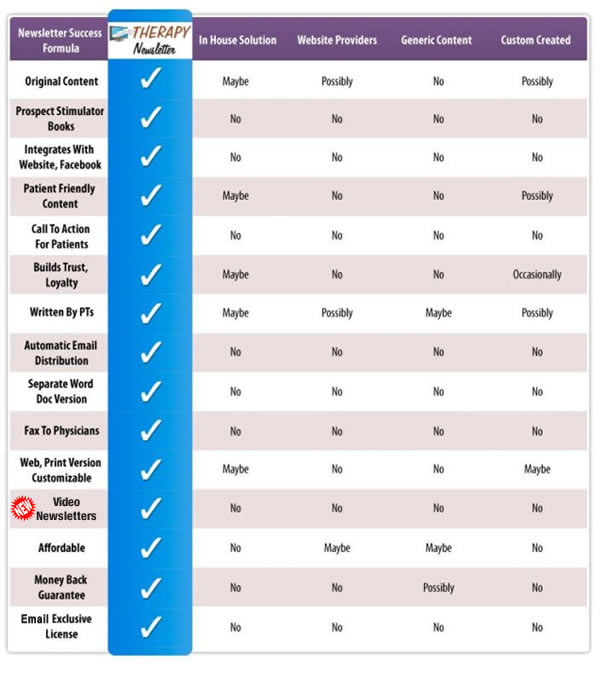 Completely Automated, Done-For-You System
It cannot get any easier than this. We write the content every 2 weeks. You customize it just once. Every 2 weeks, the content portion of the newsletter is updated (and your contact information, company logos stays the same unless you change it). This new newsletter is automatically delivered by email to your list every 2 weeks. The process is then repeated.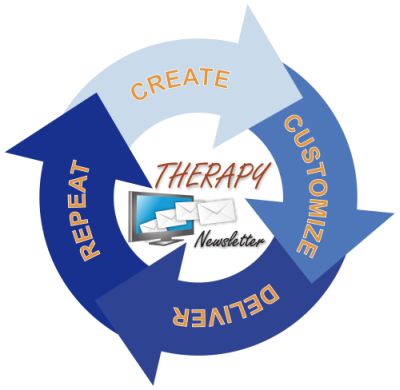 On-Demand Email Blast To Your Patients
You get a lot more than just a done-for-you newsletter service with Therapy Newsletter. You get the ability to send your patients an email blast at any time, as many times as you want.
If you have something to announce or promote to your patients, take advantage of our sophisticated email broadcast system. No fancy website skills are needed, if you know how to use Microsoft word, you will know how to use this feature. Just type in your message and click 'send'.
NEW! Personalization fields are also included, so Amanda can get an email saying "Hi Amanda", John gets an email saying "Hi John" and so on, allowing you to personalize your email contact with patients and other referral sources.


Add Your Own Content, Pictures and Logos
Give your newsletter your personal look and feel with custom headers, footers, colors and additional aesthetic options with our advanced online editor. With our unique technology, Therapy Newsletter allows you to match your newsletter with your unique corporate image.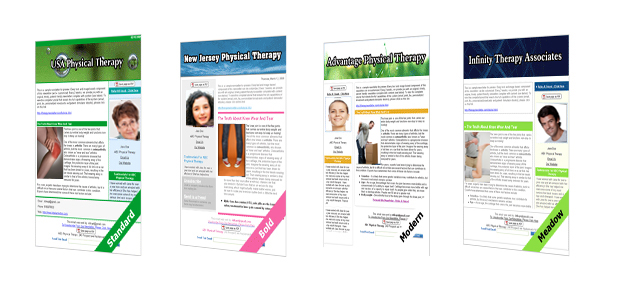 You Control EVERY Little Thing On Your Newsletter
We invest heavily in the content and message of your newsletter every single time. Every newsletter article and every line of content is meticulously researched and engineered in-house by our team of talented and licensed physical therapists.
But it doesn't stop there. YOU get total creative control. Easily add content, edit content and exercise complete control to reflect your own company brand, image and treatment philosophy.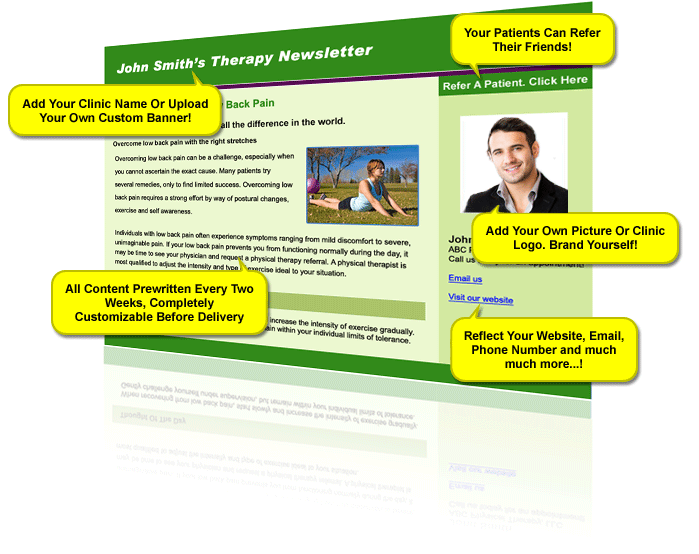 Quality Content Written By a Team of Licensed Physical Therapists
Every issue is content rich and crammed with valuable, practical information that your patients will LOVE. It's not old school, boring, dry stuff that people will ignore, it's cutting edge, timely, well researched, informative content that is fun to read.
That's not all; every newsletter comes with a set of 'action steps' for patients to take and inspirational ideas. That's why your patients and prospects will be eager to forward a copy of your newsletter to their circle of influence.
Done-for-you "Prospect Stimulator eBooks" and Website Banners Designed To Attract More Subscribers For Your Newsletter..

You get done-for-you prospect stimulator eBooks, which act as 'hooks' for patients to part with their name and email address, allowing you to build your newsletter list (and everyone on your list automatically gets the newsletter twice a month).
The best way to transform passive website visitors into active newsletter subscribers (and finally patients) is to capture their contact information to begin with.
Therapy Newsletter completely automates this critical process since we give you plug-and-play forms that you use on your website to instantly transform website visitors into loyal newsletter subscribers.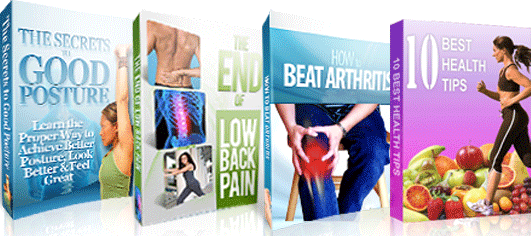 Quickly Grow Your Patient List With Internal Referrals

A happy patient, who is also on your newsletter list, is highly likely to reward you a referral. That's why we created the "Refer a Friend" feature, which is unique to your account.
Through a sophisticated feature programmed into the newsletter, your patients are encouraged to refer their friends, family, and coworkers who they feel would enjoy receiving your newsletter. This is viral marketing at its best and it's one of the fastest and easiest ways to grow your patient and prospect list.
When a patient refers a friend, you'll automatically receive an email with the information you need to contact your new prospect and schedule a possible consultation. These 'referrals' are also automatically subscribed to your newsletter and will start getting your newsletter every 2 weeks.



NEW! Newsletter Archive Feature - Access Library, Edit and Send Past Newsletters
Get the most out of this system. You can showcase your newsletter archive on your website.
Give your website visitors a library of content and access to past issues. This is a great way to showcase your expertise and build your brand.



Email List Management
If you have an existing list of patients and their emails, it's simple to import it and make it bigger with Therapy Newsletter. We give you plug-and-play forms for your website (we call these "email stimulator" boxes) which allows you to capture your visitor's contact information.
You can also View, edit, export, and manage your subscriber list with a simple click.

Track and Analyze Mailing Results
Easily track open percentage, broadcast dates, and always maintain a clean list with our exclusive hard bounce email removal system that automatically removes bad, invalid and mistyped email address resulting in high delivery rates for your newsletter.

Email Exclusivity
We don't allow your subscribers to receive newsletter from our system, which gives you the ability to exclusively market to your patients. This unique feature is called 'Email Exclusivity.' When a lead or prospects opts into your newsletter system they can't be added to another Therapy Newsletter account with the same email address.


Print Your Newsletter In Word - Create Beautiful, Content Rich Handouts
Want to get maximum exposure? It's easy with Therapy Newsletter. Use the print feature to print out copies of your newsletter and pass them around to patients, doctors and local businesses.
Use our proprietary "Physician Profiling Principle" (outlined in the member's area) to get physicians to feature your newsletter in their clinics.